Personal Style
The essence of an individual is reflected in how he presents himself to the world. Dressed impeccably in custom garments from King & Bay, Sukhdeep offers us a glimpse into what's at the heart of his success. 
The custom clothing designed for me by the Master Clothiers at King & Bay fits my body perfectly. As a professional athlete, how I feel is as important as how I look. When I put on any of the garments made by King & Bay, they 'fit like a glove' and reflect my personal style and the confidence I have in the boxing ring.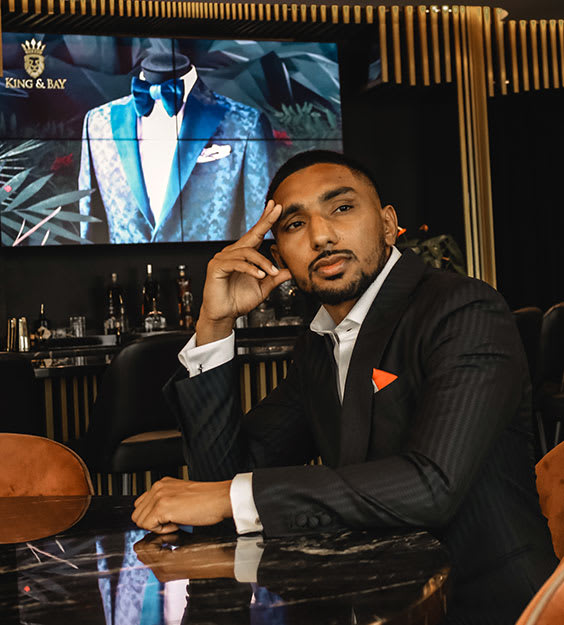 Personal Style Worth Fighting For 
As a member of an elite lineup of fight professionals who dress in King & Bay, Sukhdeep joins Bruce Buffer, Stipe Miocic and Georges St. Pierre, each rocking a unique personal style outside the ring.
King & Bay, located in the heart of Toronto's Financial District, offers a curated experience of custom clothing creation crafted for discerning clients interested in quality, attention to detail and an eye for design.
In close collaboration with Master Clothier Hozefa Hararwala, Sukhdeep has developed a personal style that reflects his commitment to excellence.
A subtle, yet stunning combination of fabrics, custom details, and fashion-forward design combine to create a look that confidently expresses the same quality and craft that Sukhdeep brings to his sport.
LEARN MORE ABOUT KING & BAY
Style Gallery
CLICK ON A THUMBNAIL TO VIEW LARGER IMAGES
ON BOXING
The art and my will to fight is drawn from a rich Sikh lineage of warriors, generals and martyrs that lead our people through what otherwise would have meant extinction.